Window Art Gallery – Kingston ON
8/2/2018
AUTHOR: Ulrike Bender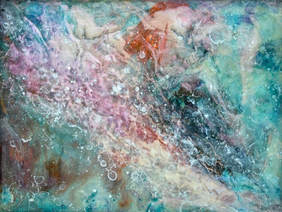 After hanging his work at the WAG yesterday, Gary Barnett laid out six hand-held magnifying glasses beside the richly colourful booklet of his paintings called A Closer Look. Gallery Director Marsha Gormley and I each picked up a glass, positioned it over a small section of one of Gary's paintings, and marvelled at what it revealed – minute details that brought to mind structures at a cellular level and, at the same time, cosmic formations on a grand scale.
"I'm inspired by nature in the sense that all life is energy and chemistry. But rather than copying nature, I try to recreate the energy of its continual regeneration."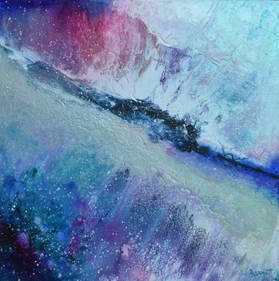 Gary works in thematic series in his art practice. Synthesis explores the effects of colour in sometimes dramatic ways. Starlight is a series inspired by galaxies, while the Pearl series uses opalescent paint in delicate underwater hues of blues and greens. Essence of Pearl won an Honorable Mention at the recent KSOA juried exhibition.
"I was proud and happy to win that award," said Gary. "I only started painting again five years ago after a 30-year break. When I painted in this style (poured paint) in the 70s and 80s, I wasn't recognized by galleries and couldn't get into juried shows. My wife (then girlfriend), Lynn, encouraged me to take up making art again. I had forgotten how much I loved painting and how exciting it is to create."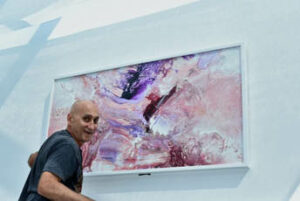 Indeed, Gary was smiling the whole time as he explained his method of working with acrylics. Once he has chosen colours, he mixes them with a commercial acrylic paint thinner, which, unlike water, prevents bleeding. Then, the addition of a small amount of silicone produces an oil-and-water effect similar to marbling. Finally, he adds a product called Floetrol to create chemical reactions in the paint. Wearing headphones and listening to New Age music, Gary pours the paint onto canvas or panel, then makes it move with air from a hair blower. Or drags it manually with plastic sheets or butcher paper, following along with the music he hears, sometimes in control, sometimes not. Videos on his web site (www.garybarnett.ca) document the evolution of some of his paintings.
Gary is currently experimenting with layers of liquid glass to produce works in the series that he calls Timeless. Three pieces from this series, along with 26 paintings from other series, are now on view.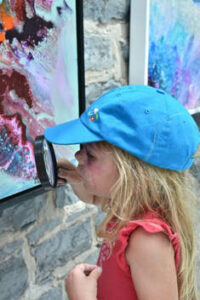 Just as I was preparing to leave the WAG, Attalia Burke, instructor at the KSOA art camp, brought her young students into the gallery and encouraged them to pick up a magnifying glass to take a closer look at the artwork. Which they enthusiastically did.
A Closer Look goes until Sunday, August 19, 2018. A reception will take place on August 12 from 2 to 4pm.