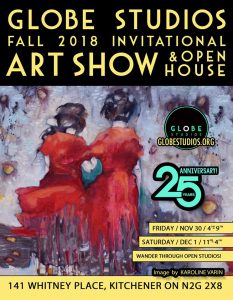 I am excited to be part of the Globe Studios Fall Show again this year!
Friday, November 30th, 2018 | 4 – 9pm
Saturday, December 1st, 2018 | 11am – 4pm
Globe Studios 141 Whitney Pl Kitchener N2G 2X8
Globe Studios Juried Show and Sale is an event that features established artists in a wide range of mediums from the Kitchener Waterloo and surrounding regions.
I will be showing work from my Pearl Series and my Metallix Series.
Below is a few of the pieces I will be bringing to the show.